Merimont offers buyers new homes in a serene location with panoramic views—less than 15 minutes from San Francisco's Financial District.   Secluded along a ridgeline in the San Bruno Hills, the neighborhood offers views that extend across the San Francisco Bay. The scenic ambience is heightened by a new park, complete with expansive landscaped areas, a play structure, barbecues and picnic areas.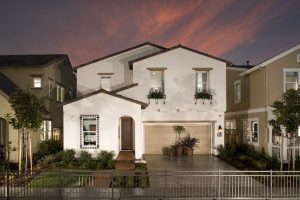 "Merimont's exceptional location is a key attraction," said Margo Mosher, community sales manager. "The combination of location, incredible views and stunning home designs is generating excellent homebuyer interest."Â
Nearby are The Shops at Tanforan and Serramonte Center, which offer convenient shopping, dining, recreation and entertainment. Merimont is also commute-close to the San Francisco Airport, BART and several major freeways that lead to key businesses on the Peninsula and in the City.