We're excited about the new Sub-Zero BI-36U!  It has been re-engineered — exterior and interior— to offer you the best in design options and the best in food preservation.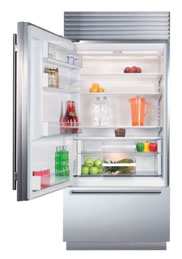 Fresh Technology
Air Purification – Scrubs odors, ethylene gas, and other contaminants such as bacteria, mold, and viruses. Air is refreshed every 20 minutes.
"Crisper Crisper" – The crisper and deli drawers form a special low-temperature zone that stays two degrees cooler than the rest of the refrigerator. Vegetables stay crisper, and fruits and meats stay fresher longer.
Water Filter – This is the only built-in refrigerator with an antimicrobial filter. The system preserves the refreshing, clean taste of water. The filter is located behind the flip-up grille, which makes changing your filter fast and easy
Other Cool Features
Flip-Up Grille – For easy access for quick routine maintenance.
Redesigned Control Panel – touch-sensing technology and new "max ice" command.
Adjustable Door Shelves – Adjust at 1" increments.
Freshness Cards – Storage tips and use and care information.
Energy Star – Dual refrigeration helps conserve energy.
Adjustable Dairy Compartment
Full Extension Roll-Out Freezer Drawer
Great news!  SummerHill offers options for Sub-Zero refrigerators at many of their communities, including Satake Estates, Redwood Gate, Rosewood, and Merimont.  Visit SummerHill's model homes to check out Sub-Zero today!