The Holidays are a great time to live on the wild side of your style personality. Red, green and blue are not the only colors for the season anymore.
You could be a minimalist and choose a monochromatic palette of a wintry white- candles can help with this theme, PotteryBarn.com has a great example.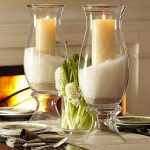 Teal blue could be a modern take on blue and green, see CrateandBarrel.com for ornaments like these:
Your nesting instinct could also bring out a cozy style personality.  Brown is warm and can update red and blue. Cinnamon sticks and pinecones could be a color platform for a more traditional style or added with metallics for an updated look. (Check out the pinecones on the christmas tree in this video of the White House holiday decorations 2009)
Let the spirit of the season be your style guide and revel in "the no rules apply" time of the year.