Summer is nearly upon us, which means it's time to change out the winter clothes for the summer clothes. Â And with the bright and airy seasons of Spring and Summer, colors are more vibrant.
It is fun to brighten up our homes in addition to our wardrobes  as the seasons change.
A simple yet elegant way to freshen up your living room for the new season is  with some throw pillows.
Stores like Target and TJ MAXX Home Goods offer inexpensive items to add a fresh touch of color to your home.
We recently added bright blue towels to our master bathroom. Â Now we have a lovely splash of color to our room for under $150! Â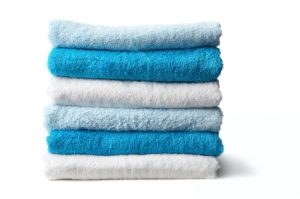 Plus towels and pillows don't require any extra tools like paint brushes to change the look of a room.