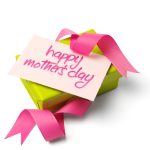 Sunday is Mother's Day! It is a great time to do something special to celebrate the mom in your life.
At a meeting yesterday, someone shared with me that they were going to make their wife a delicious breakfast with grilled asparagus, which got me thinking about how to celebrate mom with a fresh, delicious breakfast from the Farmer's Market.
I've been going weekly to the Farmer's Market at the College of San Mateo. Â Some of the fresh, local foods that I've been seeing include asparagus, strawberries, oranges, lemons, spinach, eggs, plus jams and much more. Â Here are a few recipe ideas to tap into the local ingredients available at the Farmer's Markets near you:
– Love asparagus & spinach & eggs? Â Try this harvest friendly recipe Spinach and Asparagus Frittata from Food Network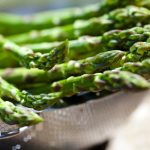 – Sweet, juicy strawberries will be add the perfect finishing touch to this Creme Brulee French Toast. Â This is very similar to a recipe that I've made many times to rave reviews, it is decadent and also delicious with Cinnamon Bread available at the farmer's market. Â Â Plus since you just pop this in the oven, you have more time to hang out with the family!
– Add a touch of this jam from We Love Jam on your toast for a delicious treat.
– Juice some oranges for fresh OJ or maybe even a mimosa.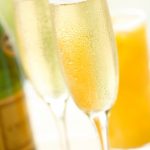 Our most recent (and final*) poll asked you about your favorite Farmer's Markets around the Bay Area.  So if you're wondering where to go to get the fresh ingredients to make breakfast  for the mom in your life this Sunday, be sure to check these local farmer's markets: College of San Mateo, California Avenue/Palo Alto, San Jose/Blossom Hill, Santa Clara, and from the "other" category Los Gatos, Sunnyvale, Pleasanton, and San Rafael.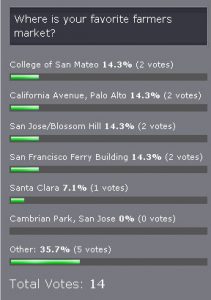 Want other fresh ideas to use your finds at the farmer's markets?  Be sure to check out this post  Small Changes Can Make Big Differences.
*we're ending our polls for now. Â we may bring it back in the future.