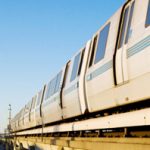 It was so easy to get to San Francisco from San Bruno's Merimont last week – twice!
I parked my car at the South San Francisco BART station (only a $1 for parking!) and took the train on Monday to the Embarcadero station and on Wednesday to the Powell Station.
Both times I checked the schedules online at BART. It was fast, easy and on time.
And, if  you've got the time to shop, Costco and Trader Joe's are right there at the end of the line.
Of course, I could have taken BART from the San Bruno station too – right by Tanforan Shopping Center – choices, choices!