As we decided to relocate to the Bay Area and were looking for a house, we had a few houses in Los Altos in our mind. However, considering both of us are working full-time with two kids under three years old, we were wondering if we'll be able maintain a 30 to 50 year-old house.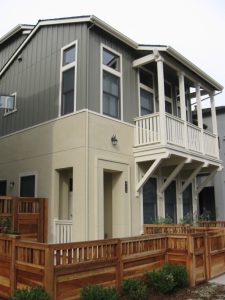 Then, when we visited model houses at Redwood Gate, we fell in love with them at first sight. First, it has great Palo Alto schools. Second, the floor plan fits in our need – the first floor has a spacious open plan where our kids can play around while we are cooking or even working with the laptops sitting in the kitchen island. Third, when we walked around the area we loved the beautiful trees all around the place!
However, we were not fully convinced to go for Redwood Gate until we met Natalie and Jenny. Whenever we visited Redwood Gate, we can tell they were different from other builders – they honestly told us all the pros and cons if we choose Redwood Gate over other options. Â They were always friendly and remembered us after our visits. Â Throughout our buying process, we truly felt they represented our best interest to SummerHill and let us know all the details so that we can make right decisions.
Well, it is not the end.  Long after signing the contract, we realized our plan has two garage doors, which looked prettier than one big single door, but we were worried that it would not be easy to park our large van and move all kid's stuff in and out.  We expressed our concern to Natalie and Jenny.  They seriously considered all the possible options (they even tried to park their cars inside the garage!), and talked to SummerHill for us.  Then, we were amazed and relieved that SummerHill changed the design, went through City approval again, and installed a new garage door!  We can clearly see that SummerHill not just builds houses but creates homes for their customers and really cares for them.
Designing our home was another joy. Â Pat was our wonderful designer who helped us to pick our options throughout the process. Â She was not only so knowledgeable in every phase and options for all models, but also very thoughtful being on our side by giving us all possible options. Â She has a great artistic sense to give wonderful recommendations for the best colors and materials within our budget. Â We love the way our house turned out to be!
Roger is a famous superintendent in Redwood Gate. Â Since we heard many good things about him from multiple people, we were wondering who he was. Â He was very detail-oriented and carefully guided us throughout the walk process. Â We could see that our home must be built to be perfect since he is our superintendent!
Our wonderful purchase experience was finalized by meeting with Shane who is responsible for the orientation walk and warranty. He was also very detail oriented, and took care of all the things that were noticed, even long after we moved in.  He is the guy who is protecting us from unexpected issues, and what we want to do now is to relax and enjoy our new home because we know Shane will resolve any issues if anything comes to our attention.
As we moved into our new home and live, we get to appreciate the quality and beauty of our house even better, and enjoy meeting our new friendly neighbors. We are so happy and satisfied that we chose Redwood Gate – yes, it was one of the best decisions because we truly feel that we live in our home that has been built by the people like Jenny, Natalie, Roger, Pat and Shane who really take care of the homeowners like their family.
The Oh Family