Now that Summer has finally arrived, it is time to spice up the outside areas of your home.
~ Bring the flavor of the inside of your home to the patio, backyard and atriums in your home by creating a living space with comfortable furniture, bright colorful  accents, pillows, rugs,  and wall art.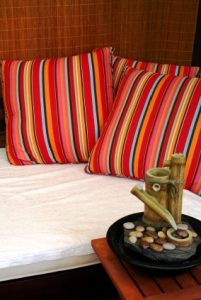 ~ Add beautiful flowers and trees  in coordinating colored pots.  Always remember the scale of the areas, so large areas can have grand size trees and pots , and smaller areas could have small groupings of different size pots to bring proportion.
~ Don't forget the  beauty of lights for those warm evenings.  Use lamps to reflect your living space style and of course, candles are always a must.  Important to keep safety in mind, so make sure all lights are compatible to the outdoors and candles are in secure containers.
~ Water features are another way to bring serenity to your outdoor space, whether small table top fountains or grand freestanding fountains , they are a great way to add another dimensions.
So have some fun , add some color and enjoy, enjoy , enjoy!!