A few weeks ago, we got to attend the Viking® Experience at The GSC.  It was tremendous to check out all of the innovation in kitchen appliances.  They have many distinct kitchens to show the array of design options available with Viking Appliances.  I am still trying to pick my favorite kitchen.  With over 23 color finishes to choose from, your can really customize your kitchen.  Here's a photo of the Viking® representative showing us the finish options: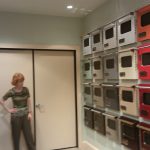 They also showed us just how fast an Induction Cooktop can boil water, it is faster than fast. Â I just may convert to Induction from Gas in my next kitchen.
And, they offer Brunch dates for you to enjoy a product demonstration and a scrumptious brunch prepared by Kathryn, their culinary director.  If you're a SummerHill homebuyer, our design team can arrange a private appointment at the Viking® Experience at The GSC for you to learn about your new appliances available standard at Satake Estates and as options at some of our other communities.
Oh, there are a few more innovations in technology for your home that I couldn't resist sharing…
Wondering just how integrated the iPad can be?  Check out iPad Gets Custom Install in the Kitchen Cabinet to see how Alan Daly installed his iPad in his kitchen!
As we look to save energy and money, the big question of just how much energy our home appliances use is sure to come up.  Mashable posted a great link to GE's handy tool to figure out just How Much Energy Do Your Home Appliances Use?
Have you already gone digital with Bill Pay? Â Now, Â Wells Fargo goes national with ATM e-receipts, which means no more of those ATM receipts to cart around just have them emailed. Â This is tech and GREEN!