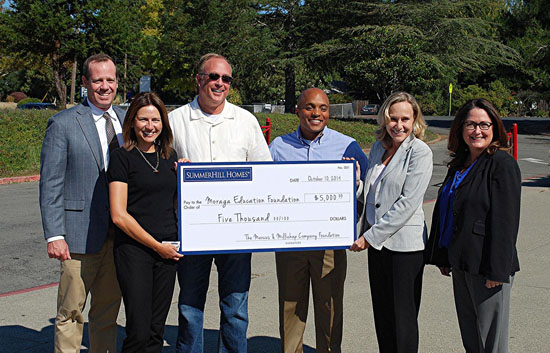 SummerHill Homes is committed to supporting the communities in which we build homes. In line with our philanthropic endeavors, on October 10th, Senior Vice President Katia Kamangar and Director of Development Denise Cunnningham had the pleasure of giving the Moraga Education Foundation (MEF) a check for $5,000 to support local schools.
The MEF works to support and enrich the educational experience of all Moraga school children in kindergarten through high school (including students from nearby Lafayette who attend Campolindo).
Kamangar said, "We have a long standing tradition to contribute to the communities where we are working."
Cunningham, who is in charge of the upcoming Harvest Court community on Camino Ricardo added that SummerHill pays a school fee rate of $3.36 per living square footage, and that based on the current plans (for the Camino Ricardo and Rancho Laguna II projects), the total fees are an estimated $660,000.
We're excited to partner with a great organization in support of Moraga school programs.