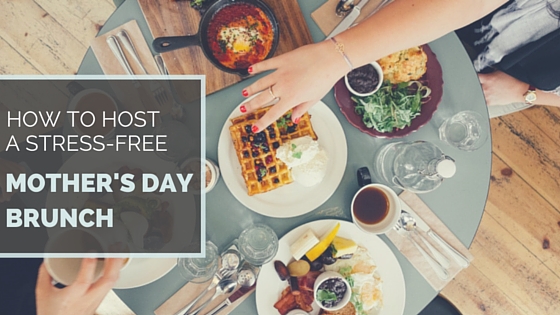 Mother's Day is coming up and if you're looking for a way to celebrate the special mom in your life consider skipping the crowds at the restaurants and toast the Mom-of-Honor at home with a delicious brunch.
Here are a few tips on hosting a stress-free Mother's Day brunch that everyone will enjoy!
Prepare the Night Before
An easy sure-fire way to help reduce the stress of hosting brunch is starting the prep work early. If you're having a sit-down brunch, set the table. Or if you're hosting a buffet (which is recommended for larger groups), determine where you will place the buffet line and beverage station and set up your dining area accordingly. Also place everything you'll need (i.e. plates, napkins, silverware, glasses, serving platters) on the table ready for hungry guests to grab.
Prepping the night before goes for the menu as well! Try making dishes you can make ahead and bake in the morning, like breakfast casseroles or baked French toast. Frittatas and stratas are also great make-ahead dishes.
The more you can get done the night before, the easier your morning will be.
Keep it simple
Pancakes and omelets are great breakfast options, but unless you're an experienced line cook, it could quickly turn into mess. Focus on one main course (like the delicious make-ahead options listed above) and add simple side dishes like fruit, muffins, pastries like croissants or scones, donuts, and bagels. The best part? These dishes can be store-bought.
And while you'll have to cook breakfast meats the day off, baking sausage and bacon is quick and mess-free.
Don't try to do everything
Just because you're hosting brunch doesn't mean you have to do all the work by yourself. You'll already be busy planning the menu and making the main course and preparing your home for guests. Be open to letting other people help! Tell everyone to bring a beverage or a specific dish or picking up one of your selected side dishes.
Have fun!
Getting as much done in advance will help you be ready to greet your guests when they arrive and allow you to be present at your brunch. Enjoy your family and friends!
Brunch is a great way for families to get together and celebrate the special mothers in our lives. We wish you all a very Happy Mother's Day!