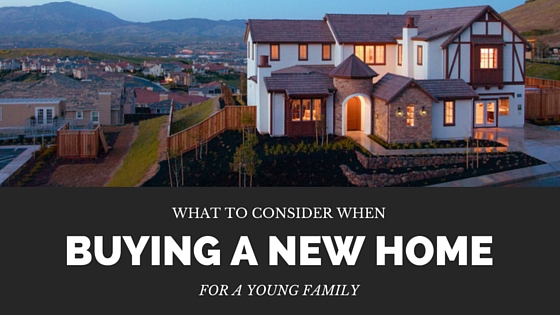 If you're parents with a growing family or home buyers who plan to start a family, finding the right home can become tricky when children are involved. What works for a single buyer or empty-nester probably won't work for a family with children.
Families have different priorities and needs than home buyers in different life stages so it's important to keep these factors in mind when you're shopping for your new family home:
What are your family values?

Before you visit your first model home or open house, sit down and decide what's most important for your family and how your new home will support your lifestyle. Do you want to live in an urban or suburban area? Do you want to be within walking distance to amenities like stores, entertainment options, great schools or park areas or are you fine with needing to drive to these areas? Are you willing to sacrifice commute time so you can be in a desirable school district? Determining your family's values will lay the foundation for the type of home and neighborhood you should look for.

Does the home fit your family?

Size matters when you're shopping for a family home; while some homebuyers may be willing to sacrifice some space for a premium location, most families must find a balance between those wishes. You'll want a home that is large enough for the entire family and has a practical layout for the way you live.

Look for a home that has enough space for kids to play and spread out their toys (because they will) that still offers other family members room to have a quiet space away from the frenzy.

Also consider how your family functions and make sure the home's floorplan matches how your family works. Is your family on different schedules? Having bedrooms away from the living areas will allow you to continue your regular routine without bothering the night owls. Is it important for all the bedrooms to be on the same level? Avoid homes with a first-floor master suite.

How is the neighborhood?

When purchasing a new home, you're buying more than just the house; you're also buying into the neighborhood. By now you've considered factors like the type of home you want, your desired commute time and near-by amenities, but we recommend you make an effort to visit the neighborhood during key hours, like commute time, in the evening or on the weekends to get a feel for how the neighborhood feels during these crucial moments – no one wants to try to put a baby to sleep while the neighborhood rocking into the night!

Also try to walk around the neighborhood and see if there are other families with kids nearby or if the neighborhood is mostly empty-nesters or young professionals. This will give you a chance to see how the whole family will interact with the neighborhood: is there a park or playground nearby for the children that are easy to reach without having to cross a busy intersection? Is it a safe area for children to play? Are there places for the family to safely walk, jog or ride bikes?

Don't forget, you can always ask the current neighbors how they like the area! You'll get a better idea of the character of the area and start to meet your future neighbors.

How are the neighborhood schools?

Living in a good school district is a major selling point for home buyers. Consider whether or not neighborhood schools meet your academic requirements or if your children will need to commute each day. Here are some additional tips on how to find a 'good' school.
Finding a family-friendly home does have its challenges but it's not impossible! With a little extra planning, you'll be sure to find the right home your entire family will love. If you're ready to find your perfect family home, SummerHill Homes has new single-family homes and townhomes in prime Bay Area locations like Sunnyvale and Los Gatos. Learn more about our available homes today!