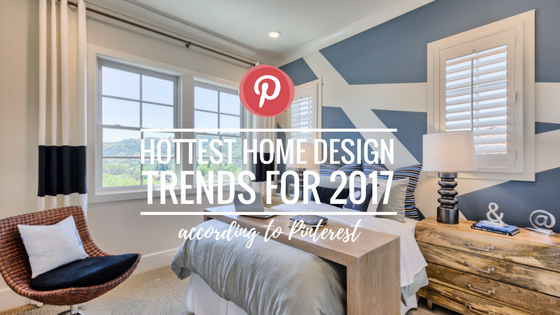 For many people, Pinterest is their go-to site for collecting and finding inspiration for fashion trends, recipes, craft projects and home decorating to name a few things. Pinterest has recently shared its top 100 trend predictions for 2017 for food, new technology, wedding planning, fashion and yes, home design!
Read on to see which trends you can expect to see more of in 2017.
Indoor/Outdoor Living
The outdoors is moving indoors in 2017! Starting with Greenery, Pantone's 2017 Color of the Year (expect to see a lot of this pretty green tone in future pins), nature will make itself at home through indoor vines, table-top terrariums and even woodland themed nurseries.
Eco-Chic Is In…
We continue to be more aware of how our choices affect the environment, including our design styles. Pinterest expects this trend to continue through 2017 and change how we interact with our homes, from installing eco-friendly heated flooring, using reclaimed wood tiles to add a earthier tone to our décor and even building smaller furniture pieces.
…and Perfection Is Out
Instead of trying to achieve a picture-perfect home, design trends are moving towards the imperfect farmhouse style and the Danish trend of 'Hygge' (pronounced hue-gah), the concept of living simply. Think cozy knits, calming colors and comfy everything.
Navy is the New Black
This year's black is Navy! If you like a darker color tone but find black to be too harsh, navy is a chic alternative. With searches for navy up 80% this year, navy will highlight a lot of pins and homes. Also, expect to see a rise in other softer, more natural tones like off-white shades and greens.
Textures and Dimensions
2017 will be the year of textures and multidimensional artwork like faux marble wallpaper, copper-tones, and acrylic décor, from frames to coffee tables.
Which of these design trends do you think you'd love to have in your new home?
Be sure to follow SummerHill Homes on Pinterest!