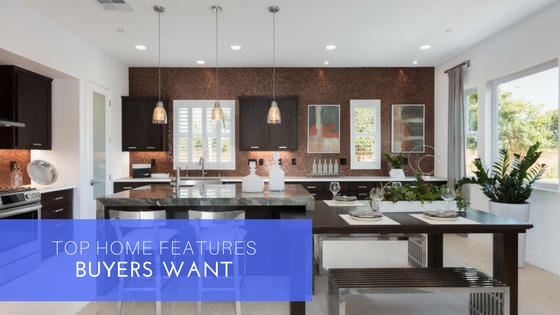 The Zillow Group recently released the results of their Consumer Housing Trends for 2017 where they polled more than 13,000 households about what's on their wish lists when shopping for a home. From actual home features to neighborhood characteristics, buyers are hoping to find a home that ticks off the majority of their wish lists.
Here are the top features home buyers are looking for:
Location, Location, Location
Location is always a primary factor when choosing a home. Buyers are always on the lookout for a home that is located in an optimal location; whether that's close to work (69%), family and friends (68%), or near public transportation (45%) and other amenities like shopping, dining, and other recreational activities (78%).
Safe Neighborhood is Key
Safety is top of mind for all buyers, regardless of location. 71% of all buyers required a home in a safe neighborhood, with that percentage jumping to 74% in households with children (68% of childless households still ranked safety as a priority).
Air Conditioning Stays Cool
62% of all buyers list air conditioning as a must have feature in their new homes, which is more than wanting an outdoor space like a patio or deck (48% of buyers listed this as a required feature). Today's home buyers are in luck since air conditioning is practically standard in most new construction homes.
Kitchens and Energy Efficiency Remain Most Desirable Home Features
The most desirable home features buyers are looking for is evidence of today's trends toward sustainability and customization. Nearly half of buyers (48%) listed finding a home with a preferred style of kitchen and energy efficiency as their ideal home characteristics. Following close behind at 47% is a home with preferred finishes like flooring, countertops, appliances, etc.
The Price Must be Right
67% of home buyers require their home be within their initial price range, with the percentage increasing in each age group (Millennials rated this as 61%, Generation X as 69%, Baby Boomers at 73%, and the Silent Generation at 81%).
The Size is Right, too
62% of all buyers require a home have a specific number of bedrooms and bathrooms, which makes sense as the two largest buying groups, Millennials and Generation X, are starting to have families of their own and need the extra space. Likewise, more than half of all buyers (57%) are looking for a home in a specific square footage.
SummerHill Homes is dedicated to designing and building communities of distinction, with quality single-family homes, condominiums, and townhomes in the most sought-after neighborhoods in the Bay Area. Visit SummerHillHomes.com to learn more about our vibrant communities and homes today.