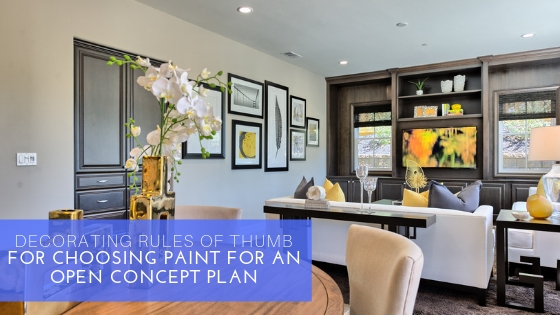 Open concept floor plans have continued to grow in popularity. While there is plenty of love about them, like the open and airy feeling they provide, they also present a challenge when it comes to selecting paint colors. How do you make each area in your home look and feel unique without disrupting the flow from room to room?
There's a careful balance to strike between too much color and not enough. Here are a few tips to keep in mind for selecting a paint for your open concept home.
Choose a palette of three to five colors
Create a color palette that will flow throughout your space. A good rule of thumb is to choose three to five complementary colors: one white or light color, one to two neutral colors, and one to two supporting colors to act as accent colors. If the idea of choosing different colors causes you to panic, consider using different shades or hues of a single color instead.
Add color in other places
If you prefer to go with a single color for your home, you can add color to your space in other ways, including artwork, furniture, rugs, accessories, or even larger items like a kitchen island or cabinets.
Let architecture be your guide
Follow the natural borders in your homes, like corners or molding as good starting/stopping points for color changes. This can help define each area in your room. If you have a self-contained wall, consider painting it with an accent color.
These three tips will help you create a pleasing color palette that will smoothly connect your rooms. Our Design Center experts can help answer any questions you have about creating a color palette that works for your home.
Read the rest of our Decorating Rules of Thumb Series: