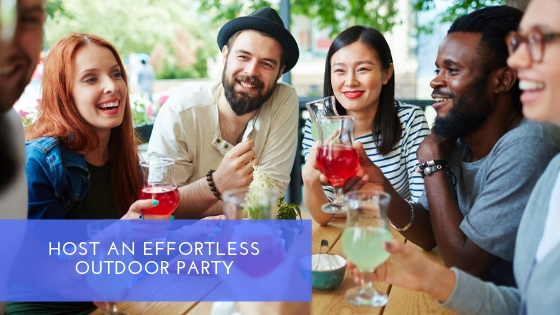 It's the season for outdoor entertaining! While there's more to hosting a fabulous outdoor party than just having a stylish backyard, putting on an outdoor soiree is relatively easy. Here are some tips and tricks for hosting a practically effortless outdoor party on your patio or backyard.
Spruce up your backyard
Just like you clean up your home before guests come over, you'll want to make sure your patio and backyard are equally guest-ready. While your yard doesn't have to be spotless, take time to clear weeds, sweep the patio area, and clean off any outdoor seating. No one wants to sit down in a chair covered with spider webs.
Consider your guests' comfort
A great host considers and anticipates their guests' needs. Here are some things that will impact your guests' well-being and enjoyment.
Have a seat (or more): Whether you're having a casual backyard barbeque or a fancier cocktail party, your guests will want a place to sit down and place their plates. Set up several groups of seating and small tables so guests can comfortably mingle.
Make it cozy: while Bay Area days can alternate between pleasant and scorching, the evenings tend to be brisk to chilly in the evenings. Have a few blankets on hand so chilly guests can keep warm/
Bust the bugs: Don't let bugs bring down your party! Take some preventative measures to keep the unwelcomed critters from ruining your guests' enjoyment. You can use citronella candles, essential oils, or even herbs like lavender, mint, or rosemary to keep bugs away.
Light the night: Have a plan to illuminate your yard as the sun sets. This will not only allow your guests to continue lounging outside, it'll also keep them safe!
Keep the menu simple
Outdoor parties tend to be more casual so take advantage and present a simple, yet elegant, party menu! You can serve a delicious spread that doesn't require spending hours in the kitchen! Try serving You can serve charcuterie platters or light summer dinners that can stand being outside. Choose items that can be made ahead of time to make party day prep easier on you.
Consider opting for a self-serve beverage set up with an assortment of drinks so guests can easily and quickly serve themselves.
Clear a path
While your party may be outdoors, there will be times guests may need to retreat inside, like to use the restroom. Make it clear where guests can find the bathroom so they don't get lost. If you're hosting a backyard fete, consider placing a sign at the front door directing guests to enter through the side gate so you don't have to worry about listening for the doorbell.
Spending time with family and friends is a great way to enjoy the warmer weather. With these tips and tricks, your next outdoor party is sure to be a blast!