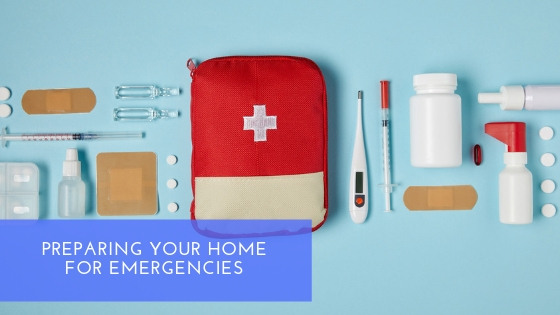 Preparing for emergencies, whether natural or otherwise, isn't usually on the top of our minds. It's understandable that you'd rather think about anything other than the worst happening. However, we know that the worst does happen from time to time and when they do, we always wish we were more prepared.
Instead of wishing you were more prepared, take some time to make sure you are prepared. Use this guide to prepare your home for some common emergencies natural disasters so you can rest assured that your family will be safe when the world gets a little rocky.
Build an emergency kit
It's highly recommended to have an emergency supplies kit, or "Go bag," on hand. This emergency kit should include the essentials you'll need to survive for several days following an emergency. You should consider placing these items in a duffle bag or container that's easy to grab as you head out the door. If you need to shelter in place, you'll have everything you need in one place.
You can either buy an emergency supply kit or make one yourself. Here are some basic items you should have in your kit:
Water: you should have one gallon of water per person, per day. Make sure you have extra water for any pets. (recommended amount: 3 days for an evacuation and 2-weeks for sheltering in place)
Food: have easy to prepare, non-perishable food to feed your family and pets (recommended amount: 3 days for an evacuation and 2-weeks for sheltering in place)
Flashlight and extra batteries
Battery-powered or hand-crank radio
Matches (preferably in a waterproof canister)
First aid kit
Prescription medication
Feminine and personal hygiene items (including wet wipes & hand sanitizer)
Manual can opener and multipurpose tool
Cell phone with chargers and backup battery
Extra cash and clothing
Blankets/sleeping bags
Paper/plastic picnic supplies
List of emergency contacts
This is a basic list of items you should have at the ready. Download the Federal Emergency Management Agency's (FEMA) full recommended supplies kit.
Create an action plan
It's important to discuss your emergency response plan to protect your family. When things get chaotic, knowing what to do can make a big difference. Decide where your family will meet if you need to leave your home and are separated. Go over what to do in case the power goes out or the phones don't work. Learn where to find your home's water, gas, and electricity valves and how to turn them off. Figure out who will pick up the kids if they're in school. Settling these questions now will reduce stress and make it easier to get through any disaster.
Be informed
It's also important to know which natural disaster is likely to happen in your area and the safety protocols for them. While we don't need to worry about blizzards and hurricanes in the Bay Area, earthquakes and flooding are real concerns, for example. Find out which home disasters are likely to occur in your area and learn the proper responses for them.
Practice makes confident
Now that you have your emergency action plan in place, it's important that your family remains aware of what to do. Periodically review your emergency kit to refresh supplies as needed and regularly practice your action plan so everyone is comfortable with their responsibilities.
Emergency situations are bound to happen. It's impossible to keep bad things from happening but with proper preparation, you can make sure your family and home can make it through an emergency safely.