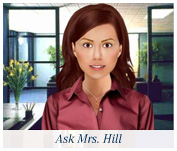 Shhhh – it is top secret – we can't share just who at SummerHill Homes is Mrs. Hill.
But, we can share a little more with you about Mrs. Hill.
Mrs. Hill started as an idea in early 2008. Our VP of Marketing came up with the idea of an online concierge to help website visitors reach someone and get the information that they are looking for more quickly. We worked as a team to figure out how to bring this idea to life.
Why Mrs. Hill? Well, we're SummerHill, so Mrs. Hill just seemed like a good fit.
We designed Mrs. Hill's look using SitePal, but realized when we put her up on our website, that she looked a little, well, grumpy, so we added a smile and cheerfully moved forward…
When we launched Mrs. Hill, she was only able to receive and respond to questions via email.
Earlier this year we launched LiveChat with Mrs. Hill through LivePerson and a bit of help from Graphic Language.
LiveChat means that when she is at her desk, she responds to you with real-time answers. If she is not able to answer the questions directly, then she facilitates connecting you with the SummerHill team member that will be able to answer your question.
We're really enjoying this chance to connect with our homebuyers and website visitors. We've gotten some great reviews from people chatting with Mrs. Hill – mostly glad to get questions answered with ease.
Although we've had some people ask who she is, we're keeping you guessing for now.
Mrs. Hill is online Monday thru Friday during business hours, except when Mrs. Hill has to step away for meetings, yup that's right Mrs. Hill is a real, live person with meetings! Mrs. Hill sometimes appears incognito at grand openings and events.
Got a question after hours or when Mrs. Hill is in a meeting? No problem.  Send Mrs. Hill a question by clicking on the Ask Mrs. Hill button on our homepage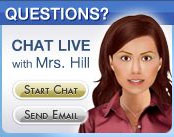 or on our Echelon, Redwood Gate or Satake Estates websites.

Mrs. Hill answers questions sent while she is offline via email as soon as she gets back to her desk!
Or you can always send an email to Mrs. Hill.
Thanks for sharing your thoughts on ways to make our website better and easier to navigate. We enjoy helping you find  what you're looking for most in your new home.
Mrs. Hill looks forward to chatting with you soon.
So who do you think Mrs. Hill is?Â
(If you already know, let's keep the surprise!)