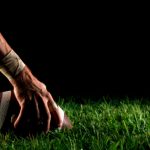 Or at least have an excuse to unglue your eyeballs from NFL.com and media day to enjoy some home town sports news.  And so it is with eager anticipation of this year's 44th Annual Super Bowl that we look at the success of our local community high school sports teams as 2010 kicks off at great year.
Redwood Gate in Palo Alto funnels to Gunn High School where the Lady Titans have been battling on the soccer field with a  recent 1-1 tie game. And the Boys JV Basketball team recently beat the Chargers to earn the season series split. Of the fall sports that just ended, the varsity football team rounded out an excellent season with a 45-0 win over Cupertino. This exciting year saw the Titans outscore their competition 321- 126.
Heading up north to Merimont in San Bruno, we visit Capuchino High School where the Wild Mustangs JV Basketball team defeated Jefferson high for the Consolation Championship in South San Francisco. The Lady Mustangs opened up this basketball season with a major home victory and a final 34-30 victory. Keep up the good work!
Our only East Bay school on the list is from Rosewood in Fremont, John F Kennedy High School. The boys and girls varsity soccer teams played their last home games this week against Mission San Jose. And in related news, the JFK homecoming queens outstanding accomplishments as a cheerleader, varsity basketball captain, peer counselor, and high-achieving student, secured her an exclusive opportunity to participate in Liberty Bowl pre-game and halftime show in Memphis, Tennessee.
Mountain View High School in the Los Altos School District is a hit with our newest community, Satake Estates. Looks like Cross Country just ended here with both the boys and girls teams winning D2 championships at Central Coast Selection Meet. Congratulations! This basketball season is off to a great start with the Boys Varsity ranked 61 in the CCS. Go Black and Gold!
Last but not least, Lincoln High School in San Jose is where Village Square's students go. The Lions boys basketball has had a stellar season so far winning 14 of 18 games- Wow! And the athletics program here is extensive; it includes sports like water polo and even golf! A fun fact, Lincoln HS football is the only local team that continues to play in the Big Bone game on Thanksgiving day, which continues to be the most renowned high school football rivalry in the nation.
Here's to Superbowl weekend, too much good food, and fun with friends! Happy Friday!
*A special thank you to Mr. Collins at Lincoln High for sharing athletic accomplishments this year!