Following up on Allison's great blog on sweet getaways and restaurants for Valentine's Day, here are some unbelievable deals for you and your Valentine.
Flowers… the veritable Santa Clause of Valentine's Day. So it's a good thing FTD is having a super sale! If you haven't seen the tv ads they are pushing this big and for a good reason. For just $19.99 you can get a mixed bouquet of roses and box of chocolates delivered to your door. An easy gift that's sure to please.
The Double Tree hotel family is offering a romantic get away package that includes a deluxe room,bottle of sparkling wine, breakfast in bed, and late check out. If you book this package at the Hilton in Fremont (near our Rosewood community) you also have the option for a special Valentines dinner that includes a well prepared prefix menu and live music to suit the mood. After your breakfast in bed, make plans to take a hike up Mission Peak with your honey for a light picnic lunch and great views of the Bay Area.
Don't forget that spending time together as a family can be a great gift too! A trip to your local Oakland Zoo is a great date and fun for the kids too. The zoo is offering 4 tickets (2 adutls/ 2 kids) usually $100 for only $50 and includes free parking! Get your tickets here. Enjoy walking the African savannah and experiencing the extensive rain forest. Make a Valentine's day memory together.
And who doesn't love a little bling? Kays Jewelers is offering 30-50% off all their ruby jewelry thru February 14th (ahem… that would be Valentine's day). According the the Gem Society, ruby's are believed to protect the wearer from misfortune and bad health and are believed to bring luck! Find your local Kay's Jeweler here.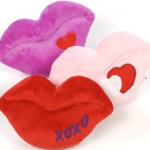 This year, treat your pet with these adorable PetSmart Valentine picks. For your pup, a pair of stuffed lips that make a kissing sounds would be a delight. My dog got this from her grandma for Christmas… she just loves the smoochy noise! Or go with Top Paw's tank top declaring that your dog is loved just the way she is.
For the foodie, here is a  super deal at one of the most talked about restaurants in San Mateo, The Melting Pot. This fondue shop offers a well rounded meal or an extensive array of desserts for you and your beau. Right now at BayAreaHalfOff.com you can buy a $25 gift card for only $12.50!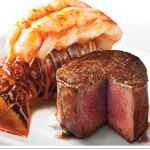 And last but definitely not least, here is the most delicious deal I've found. Ruth's Chris is offering a 6oz. filet and lobster tail for just $39.95. And there's a Ruth's near you with locations in both San Francisco and Walnut Creek. My mouth is watering already!
So which of these Valentines options appeals to you most? What would you like to hear more about? We'd love your comments!
Happy Valentines Day and Happy Friday!