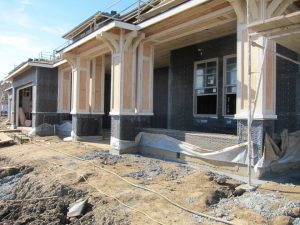 I am excited to see the first houses at our newest community, The Enclave at Waverly Park in Mountain View, starting to take shape. We have three model homes under construction and, thanks to our fantastic construction group and sub contractors, these homes are going up fast!
There are few things more rewarding in life than seeing one's work efforts turn into a tangible reality, especially when it is new homes for families to live in and enjoy for years to come.
To add to the excitement, we made a recent decision to include solar photovoltaics on all homes and make that a standard feature for all of the 53 homes in this community.  This means that  While PVs (photovoltaics) are becoming more mainstream, they are still a significant cost item in new home construction. Â
The Enclave at Waverly Park will be SummerHill's first 100% solar community.  I am proud of SummerHill's green building commitment. It feels good to be not only building high quality homes with solid architecture and finishes, but to also be doing our part by building homes that are energy efficient and help conserve our natural resources.
Seems like a winning combination and I can't wait to see the furnished model homes later this spring!