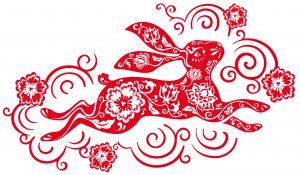 Are you ready for the New Year?
Today marks the start of the metal Rabbit year.
Received an email this week that shared that:
Rabbit years are generally very placid and calm, which is quite welcomed after the ferocious year of the Tiger. It is nice to have some time to rest and lick our wounds after the battles of the previous year.  During a Rabbit year, good taste and refinement shine on all. While politics and international relations still take front stage, during a Rabbit year, force and aggression are replaced by persuasion and diplomacy.  Rabbit years are filled with enjoyment, entertainment and ease. Money is made without much labor, as Rabbit years are prosperous ones filled with luxury and leisure.
Some great ideas from Coastside Healing Arts in Half Moon Bay on getting ready for the Chinese New Year:
Colors: Bright red (happiness); gold/orange (wealth & happiness)
Fruits: Oranges and tangerines (good health & long life); tangerines with leaves intact (long lasting relationships; fruitful and multiply as in having children); persimmons (happiness & wealth)
Circular candy tray (candy for sweet and circular togetherness)
Flowers: If flowers bloom on New Year's Day, it will be a prosperous year
Red banners or couplets with New Year wishes and symbols of good fortune in fold.
Suggestions for food:
Jai – a combination of food that represents good fortune. Â Jai is comprised of ginkgo nut, black moss, dried bean curd, bambooo shoots, vermicelli, and scallion.
Fish and chicken represent prosperity. Â Always present the fish and chicken as a whole. Â Do not cut them in pieces. Â The head and tail and feet (for chicken) must be presented to symbolize completeness.
Noodles represent longevity. Â Again, they should not be cut.
Desserts include oranges, Chinese New Year cake (ni gao) and prosperous cakes (the look like golden nuggets)
May this metal Rabbit year be one of great joy, peace, and good fortune for you and your family.