The PCBC Bay Area Architectural Design Tour will make a stop at our new community Creekside at Saratoga
This tour allows visitors the unique opportunity to explore some of the Bay Area's most diverse sites showcasing a variety of different types of developments and allows them to meet the design team close up to learn more about the building process and the compelling stories behind them.
Whether exploring the latest in transit-oriented developments, green building, LEED, affordable housing, apartments, townhomes or urban in-fill development, this tour has something for everyone. Come see what we're building, where we're building and explore the new trends shaping our communities.
June 26
Bay Area Architectural Design Tour
9:00am–5:00pm
Purchase Tickets Here
About Creekside at Saratoga: Come explore this limited opportunity of 20 beautiful Luxury Townhomes in one of the Bay Area's most sought-after communities. Within easy walking distance to some of Saratoga's top-ranked schools. Convenient commute access to most of Silicon Valley. Nestled nearby downtown Saratoga Village. Close to a bounty of parks, shopping areas, wineries, and award-winning restaurants, some literally steps from your door.
Traditional, low-maintenance two-story homes with private outdoor space that have the appeal of Single-Family-Home living. Spacious floor plans with 3 to 5 bedrooms and approximately 1,992 to 3,774 square feet of living space and two-car garages. GreenPoint rated, creating a green environment that is both energy efficient and environmentally friendly for you and your family.
With 13 individual floor plans and a multitude of personalization options for room configurations and finishing touches, it's never been easier to find a home that is just right for you.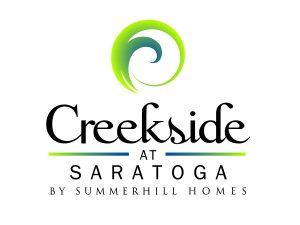 20475 Arbeleche Lane
Cross Street: S. Saratoga Sunnyvale Rd. near Saratoga Ave.
Saratoga, CA 95070
P: (408) 872-1309
F: (408) 872-1090
Email: CreeksideSales@shhomes.com