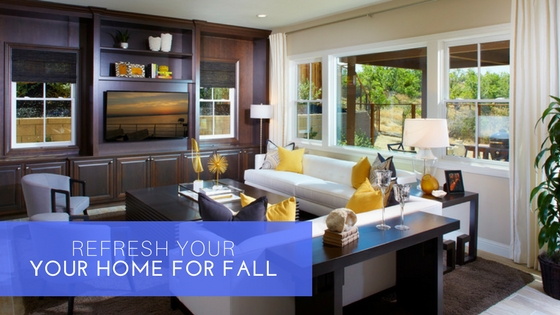 With the summer season coming to it's inevitable end, it's time to pull out the sweaters, cozy blankets and pumpkin spice everything in celebration of the new season. A new season means new décor changes so we rounded up a few simple ways you can refresh your living space just in time for fall.
Embrace seasonal colors: This season's colors are deep and warm, perfect for the cozy vibes the season emits. No need to bust out the paint: change out accessories like throw pillows, rugs, or even art pieces that feature some on-trend seasonal colors like maroon, navy, ballet slipper pink, camel, burnt sienna, red, or gray.
Add Comfy Accessories: As temperatures drop, your family may find themselves indoors more often. This is the perfect excuse to update your couches and chairs with new throw pillows and soft, warm blankets. These will help project a warm and inviting tone.
Layer Textures: Just like you can layer your clothes, you can also layer textures in your home. One of the season's biggest trends is mixing materials and textures, so go ahead and match your favorite metals with reclaimed wood, or layer woven rugs on top of tile or wood floors.
Add a Touch of Gold: Nothing signals the holidays more than gold, so start adding gold accents like lamps, candlesticks, or hardware to your home.
Bring Nature Inside: Take some design cues from nature to add some dimension to your home. Consider using twisted branches, raffia, gourds (these can be real or artificial) or even apples as part of your décor.
These quick and easy design tips will make any room of your house ready for the fall season and ready to enjoy the spirit of a new season.