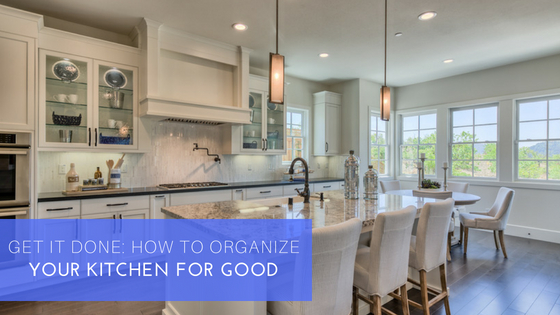 Getting your kitchen in a good working order is a satisfying feeling, but it's easy to feel overwhelmed trying to keep up. It can feel especially daunting when you've been in your home for a while. Here's a quick guide to the best ways to organize your kitchen and stay on top of things.
Empty Everything
Yes, everything. The first step to getting your kitchen in order is to take everything out of your cabinets and drawers so you can see what you actually have in there. You can do this either cabinet by cabinet or all at once if you have the time. You may be surprised by what you find.
Keep or Toss
Once you pull everything out of your cabinets and drawers, go through your items and decide what to keep, donate, or toss. Set aside the items you'll keep, donate anything you rarely or don't use (items like small kitchen appliances and other kitchen items) and unopened food items that are still good, and toss anything that's broken or expired. For food items, a good rule of thumb is to throw away anything that's been there longer than a year.
Time to Clean
Now that everything's empty, it's a good time to thoroughly clean the cabinets and drawers. Sweep out any crumbs, dust, clean any stains, and wipe the exteriors.
Sort Remaining Items
Break your kitchen into functional zones: refrigerator/pantry, sink, and stove/oven. The refrigerator/pantry zone will serve as your food storage and early preparation zone that'll consist of your food items and preparation utensils like mixing bowls, measuring spoons and cups, some bakeware, graters, small appliances, etc. Think of the sink zone as the land between the fridge and stove. This area will hold your flatware, dishes, and glassware, cleaning supplies, cutlery, cutting boards, and anything dealing with waste management. Finally, your stove/oven zone will be where your spice storage, cookware, and cooking utensils. You can also store some of your frequently used bakeware and small appliances and serving pieces in this zone.
Group your items and tools by each zone. When organizing the pantry, you can break your items down into food types: cooking and baking staples, snacks, breakfast, etc. based on what makes sense for your family.
Put Everything Away
With everything sorted based, replace everything in the cabinets and drawers closest to where they're commonly used. Now's a good time to think about kitchen organizers like roll-out shelves, baskets/storage containers, cabinet risers, drawer dividers and pan organizer racks if needed.
Maintain, Maintain, Maintain
Now that you're kitchen is in working order, you'll want to make sure it stays that way! Every organization system relies on constant maintenance to keep it in working order. You'll need to remain diligent in placing things in their proper places.
These kitchen organizing and storage tips should help your hardest working room in your home to work a bit more efficiently.