From: Design Line Interiors
This summer it's all about the "stay-cation". Instead of spending hard-earned dollars on vacations that come and go in a week, invest in creating a permanent vacation residence within your own walls! Remember its not about the location…its about the memories you make. Follow our tips on how to create your own slice of paradise with a few quick and easy summer projects.
De-Clutter
Start by putting away those heavy fall and winter accessories, pillows and blankets. Keep surfaces clean and clear with summer-y accessories that remind you of a favorite destination or a memory from a past vacation. It's as simple as placing a basket of seashells, a well-used travel guide, or a cherished vacation scrapbook on your cocktail table!
Freshen Up
Bring in some summer greenery. Surround yourself with the softness & relaxing feeling that a plant lends to any interior. Visit your local farmers market and take home some freshly cut flowers. Find an unusual container to give it your unique flair. (Perhaps a mason jar, an heirloom pitcher or a mossy terracotta pot that compliments your decor.) If greenery isn't your thing, try adding a basket full of yummy oranges, lemons or limes with their leaves still attached. They smell fabulous and are a healthy summer treat!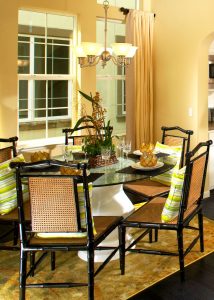 Add Color
Buy a few inexpensive accent pillows, in fun colors or eclectic ethnic prints. Stores like West Elm and Pottery Barn offer well priced options that can add an extra touch of softness and a lively burst of color. If a few pillows aren't bold enough for you, try painting a wall or a room in your home in a vibrant color. Keep it simple with colors such as a bright yellow that reminds you of the sun at the beach, a fresh green like a tropical adventure, or a golden orange that captures the gorgeous hillsides of the southwest.  Paint is a quick and inexpensive way to transform your entire space, allowing flexibility to warm up your colors for the fall season!
Breezy Windows
Take down those heavy window treatments. Ikea offers inexpensive sheers that add a tranquil, ethereal feel to any interior space. Open up the doors and windows and let that summer breeze into your home!
Set the Mood
Download a mix of special summer songs that remind you of a memorable vacation. Play it during the week after a hard day at work or while you're sipping your favorite frosty margarita!
Bring the Outdoors In
Roll up and put away dark and heavy area rugs. Add a wonderful sisal or jute rug for some beachy color and texture. Try placing outdoor lanterns inside with crisp white candles around your house for a soft outdoor glow… inside!
Add Personality
Pull out that old family antique that is collecting dust! Give it a coat of fresh paint; crisp white or have fun with color.
Make it a conversation piece!