Who doesn't love Spring?  This year for certain will be much anticipated.   Although we needed the rain and we are grateful, we are now truly looking forward to the promise and beauty of Spring.  One way to welcome in Spring is to do it through your decorating.  Happily, you can bring Spring into your home now, even if Punxsutawney Phil the groundhog saw his shadow or it has rained for 3 days straight.
A way to force the sun and warmth of Spring is to paint.  Warm tones of yellow with crisp white trim can be the next best thing to vitamin D.  You can paint a small room, like a bath, or just an accent wall in your Living room.   If you prefer to have the flexibility to change your color scheme out for each new season, painting may not be the best route.
(Light yellow walls and yellow/lime pillows at Rosewood)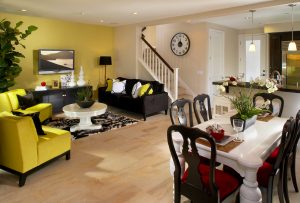 Another way to bring in the warmth of Spring is in accent colors.  Toss pillows, area rugs, and artwork are all easy and flexible alternatives.  With a neutral back drop in your furniture and walls you can bring in the pop of your favorite Spring color.  You can get the Spring feelings of clean, fresh and new easily and inexpensively.
(Yellow, black and white pillows, red bowls at Echelon)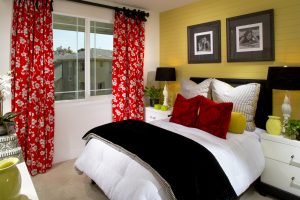 Don't feel trapped by traditional colors of Spring either.  If you love black and white, this can be brought out in a fresh and new way.  Red can even evoke feelings of Spring when brought in softly through flowers and floral toss pillows.
(Red curtains, pillows, and yellow accents at Echelon)
So, enjoy Spring and just imagine the colors you can work with for Summer…