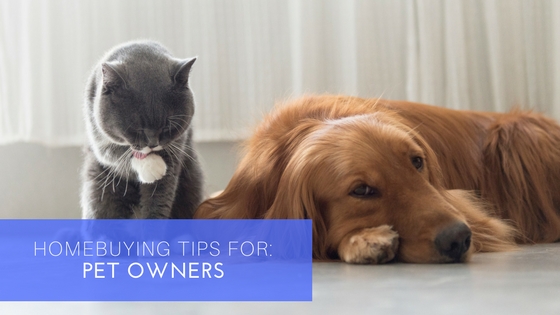 More millennials are taking the leap to homeownership these days but not for the reason you'd think! A recent SunTrust Mortgage survey found that a third of millennials who purchased a home were influenced by the need to have space for their dogs, which is more common than even having children or getting married!
If you're one of these pet-loving homebuyers, or are hoping to add a furry member to the family, here are some tips for finding the perfect home people and animals alike.
Check for pet requirements
Before you place an offer on a home, familiarize yourself with city and county ordinances concerning pets. Many cities may restrict the number and type of animal a person may own within city or county limits.
Check into HOA rules
Some Homeowner's Associations (HOA) restricts pets while others will place restricts on the number, type, and sizes of pets. You definitely don't want to violate the bylaws so do your homework ahead of time!
Review house layout and features
Just like you evaluate a home's layout and features based on how you live, do the same for your pets. Perhaps wall-to-wall carpet isn't the best idea if your pet sheds a lot. Does the home provide a fenced-in yard with enough space for your dogs to run around, or at least access to a safe open space? Consider what your pets need to be just as comfortable in your home as you are.
Is the neighborhood pet-friendly?
Take note of the neighborhood to see if there are other pet owners in the area or if there are spaces to walk your dogs (bonus points for being close to dog parks). Also, be aware of the level of traffic in the area; you may keep you dog on a leash whenever you're walking them, but in the event that your dog or cat dashes through the front door to freedom, you wouldn't want to risk them running into a busy thoroughfare.
When you're ready to buy your new home, visit SummerHillHomes.com to make an appointment to view our model homes.