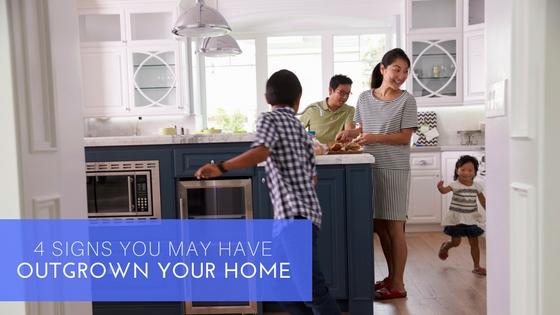 Life is always changing: families grow, careers change, and other unexpected events occur. Your home fit your needs when you first bought it but now your life is completely different and now your cozy home is a little too cozy. Whatever your situation, you may be looking around your home and realizing that it may be time to move into something more comfortable for your family.
If this sounds like you, here are some common signs that signal your family has grown your current home.
Your house is full
The most obvious sign is that you've simply run out of room. The cozy starter home worked well in the beginning, but perhaps you've added to your family since moving in and now you're practically on top of each other. If that's the case, it's time to find a new home that comfortably fits your family.
Your things are everywhere
More people means more stuff and suddenly you're needing to get creative with your storage options. It's natural to accumulate more things but if you're tripping over toys or your closet is constantly overflowing, and a Marie Kondo intervention can't help, then it's clear it's time to find a space that can hold you and your belongings.
You no longer love those quirky features
When you first moved in, you embraced the idiosyncrasies in your home, like the built-in phone nook or the extra cozy rooms and equally cozy closets. But now, what was once quirky and lovable has now become annoying.
You're no longer entertained
You love to entertain family and friends throughout the year but now your guest list is getting larger except your home is not. It's a tight squeeze even for a causal get together and you're constantly apologizing for the lack of space. Sound like you? Time to consider upgrading your home.
Have you realized you've outgrown your humble home? Visit us at SummerHillHomes.com to view our new communities throughout the Bay Area to find a new home that's a better fit for your new life.