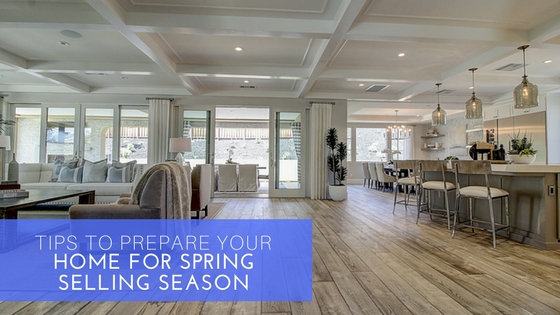 If you plan on putting your home on the market this spring selling season, now is the time to get your home into prime viewing condition. Today's homebuyers have high expectations for what they want in their next homes so it's important to showcase the best features of your home.
Aside from decluttering and depersonalizing your home, there's a few more tasks to accomplish before putting your home on the market. Here's a short list tasks to do to prepare your home for spring selling season:
Clean your yard. The front yard is the first thing potential buyers see when they come to your home make the best impression by improving your curb appeal. Clear away any leaves or debris, trim the lawn, hedges, and trees, and clear out any dead landscaping. You can also consider painting your front door or replacing the address numbers and mailbox (if possible).
Fix the small stuff. All of it. You're not expected to have your home inspected before listing it for sale, but know with confidence that your buyer will have it inspected before finalizing the purchase. Some buyers will worry that a collection of small fixes is hiding a larger maintenance issue, which can potentially ruin the deal. Do your due diligence to address any maintenance issues in your home first.
Deep clean your home. Dirt and dust naturally accumulate in your home, no matter how on top of cleaning you are. Since buyers will look through every crevice of your home, it's important to thoroughly clean your home inside and out. Clear out the closets, wash the windows, and clean the carpets.
Repaint with neutral colors. While your red bedroom is your absolute favorite place in your home, that might scare off potential buyers. It's best to appeal to the widest base of buyers by painting the interior of your home with neutral colors like soft gray, mushroom, or taupe.
The spring homebuying season is a busy one and you don't want to be caught off-guard! Taking time to prepare your home now will ensure that you'll emerge from this season victorious.