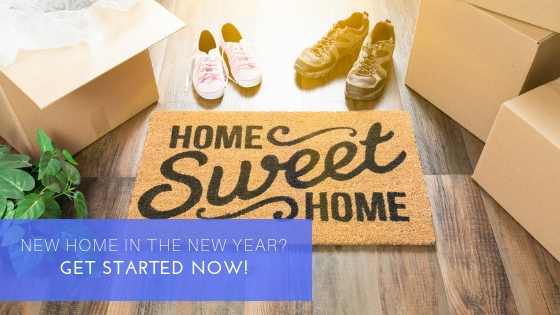 Do you dream of buying a new home next year but you're not sure where to start? Now is a great time to start getting ready. While you probably won't have time to get your down payment together this year, there are still plenty of other steps you can start taking now so you're ready to make the leap in to homeownership next year.
Do a credit check
Your credit score is the key to being able to purchase a home. A strong credit score increases your chances of receiving a favorable mortgage rate. You'll typically get the best interest rate with a credit score of 740 and higher. If your credit score is less-than-stellar, start repairing it. Review your report for any errors or omissions and begin addressing each issue.
Find out what you can afford
Now that you know your credit score (and, if necessary, are taking steps to strengthen your score), it's time to determine exactly how much home you can afford. You can use an online mortgage calculator (like these from Zillow, NerdWallet and Bankrate) or speak with your mortgage lender to make that determination. Your affordability range is based on your gross monthly income, current debt and monthly expenses, credit score and down payment amount. A good standard rule is to not exceed 28% of your gross (pre-tax) income.
Save for a down payment
You've got your credit score and your ideal price range, now you can start working on your down payment. Whether you're saving for it all on your own or the recipient of cash gifts, figure out how much you need to save each week or month to reach your goal.
Get preapproved
Once you've shopped around for a mortgage lender to find the best rate and programs you qualify for, the next step is to secure a mortgage preapproval. Preapprovals make you an appealing homebuyer because it shows that a lender has agreed to loan you a specific amount, which assures home sellers that you're willing and able to purchase a home.
Hold off on making major life changes or purchases
Once the mortgage wheels are in motion, you want to avoid making any major changes in your life and finances. Now is not the time to make expensive purchases on credit, apply for a new credit card or even change jobs (if that can be avoided). These actions can have a negative affect on your credit, which could cause you to lose out on your dream home.
If homeownership is in your future, by tackling these steps today will help prepare you to make the homebuying process a lot smoother when you're ready. When you are ready to purchase a new home, visit us online at SummerHillHomes.com to view our new communities throughout the San Francisco Bay Area.