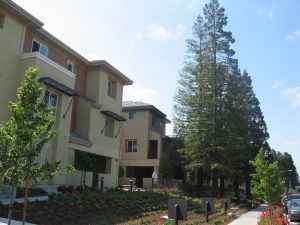 One?! That's it?!
That's right… 15 months and 74 happy homeowners later, only one home remains at Echelon in Palo Alto.
Think back to June of 2008. What were you doing? Finishing up the school year? Planning a summer camping trip with the family? I distinctly remember June 2008 because it was hot… very hot. It was hot as we moved all the sales office supplies (desks, binders, and books oh my!) into our big beautiful sales office at Echelon. It was hot as we stood outside offering water and cookies to the dear souls that braved the heat to visit our Grand Opening. And things really started sizzling as we began to sell these 2 and 3 bedroom condominiums like hot cakes! It didn't take long for local home buyers to warm up (cant… stop… the puns…) to these gorgeous tri-level homes, and I can't blame them considering Echelon's prime location,  just a 10 minute drive to downtown Palo Alto and Stanford University.
In addition to the great location, Echelon has a school district that is on fire! Well not literally (thank goodness!), but check this out… "Gunn High School makes Top 150 on Newsweek's list of Best US Schools". And what about when school is out? Lucky for Echelon homeowners, Palo Alto is peppered with over 150 city maintained parks and play areas.
So it's easy to see why we only have 1 home left at Echelon. Wait… what's that? You haven't been to Echelon yet? Well time is running out, so visit my friend Natalie at Echelon today and have her show you around this truly unique community. Just remember to wear your spf and shades.
Happy Monday.