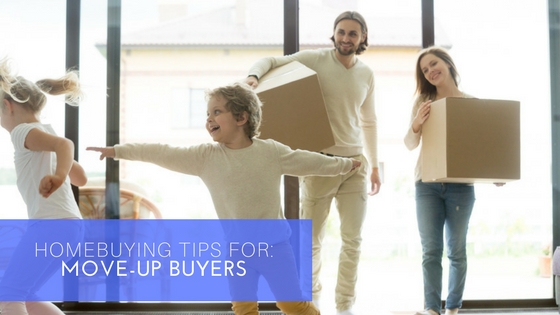 There's plenty of guides and information available for first-time homebuyers, but they're not the only ones buying new homes. There are a group of homebuyers who are looking to upgrade their current home: Move-up buyers
Move-up buyers typically have owned their current homes for several years and are looking to "move up" to new home for various reasons, whether their family has grown, they want to move to a different school district or need to relocate for work.
While move-up buyers have experience navigating a home purchase, there are some unique concerns that should be considered as you wade back into the home buying process:
Should you buy or sell first?
The answer to this depends largely on your current market conditions. If you live in a hot market, selling a home may be relatively easy, however that could mean it you're in a competitive buyer's market. While a real estate professional will be able to give you the advice needed to settle your buying/selling strategy, here are some things to consider if you need to buy and sell a home at the same time.
What do you need in your new home?
A benefit of being a repeat home buyer is that you're in a better financial position to make decisions based on your future needs. While a first-time homebuyer may want to start a family, they home they may be able to afford might be too small to comfortably fit a growing family. It's important to consider how much home and the features you need that will fit your family and lifestyle for the years to come.
How has your life changed? How will it change?
How long do you plan on living in this new home? Depending on your age and current family situation (or impending situation), you'll probably need to consider some new factors that weren't in play the last time you purchased a home. Will you need to be close to work? Schools? Do you need additional space for aging parents? All these factors will affect the type of home you ultimately purchase.
What's your homeowner personality?
Time to be honest with yourself: how is your homeowner personality? Perhaps you purchased a fixer-upper and now the idea of renovating a home makes your shudder. If so, then a new construction home or one that's already been renovated is best for you. Or if you purchased a home with a large yard and then struggled to maintain it, look for a home with a smaller or maintenance-free yard.
Ready to make the leap back into the homebuying process? Visit us online at SummerHillHomes.com to view our current communities and new homes throughout the Bay Area.
Not a move up buyer? Checkout our homebuying tips for first-time homebuyers and newlyweds.